Calendar of Events Open to the Public
Our 2020 US tour prior to global shutdowns, is displayed below. You will also be able to view our previous years schedule as you scroll down this page. Our creativity was called upon during the pandemic, when we were asked to launch our first and only virtual fair. This took place online for the New Mexico State Fair in Albuquerque, New Mexico and can be viewed on our youtube page here. Although we missed the concrete interaction with our fans this was a great way for us to demonstrate creativity in yet another way. We continue to strive to interact with our fans in various new ways. Learning how to navigate an event through the pandemic opened new doors and provided ideas to us. We have created matching masks for all of our costumes, wear gloves, and naturally we are able to abide by the 6' apart!
_________________________________________________________________________
Winter of 2016
March 18~March 19 - Beyond Wonderland at San Manuel Ampitheater. All day event. Keep an eye out for your Tall Wonderland friends of Stilt Circus as The Queen & Jack of Hearts; also debuting our all-new Mad Hatter and Ace of Clubs! http://socal.beyondwonderland.com/
April 15~April 17 - High Times U.S. Cannabis Cup at NOS Events Center. Excited to unveil our spectacular new Lotus Specialty Flower stilt costume! http://www.cannabiscup.com/socal
April 15~April 16 - Rivers & Spires. 5-7pm https://riversandspires.com/
December 31, 2015~January 1, 2016 - The Village at Mammoth Stilt Circus presents Toy Box II http://villageatmammoth.com/
December 31, 2015~January 1, 2016 - Circus Disco Final Farewell. Stilt Circus was one of the many local performing artists chosen to be a part of this historic event.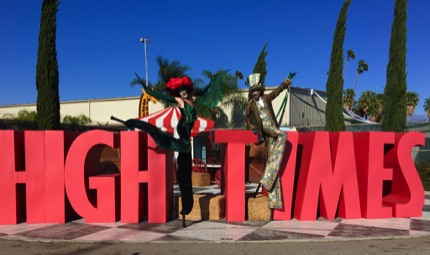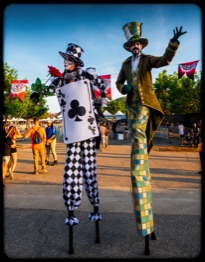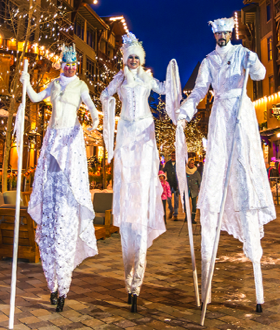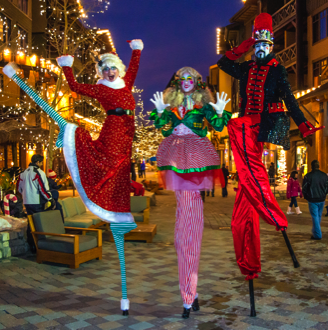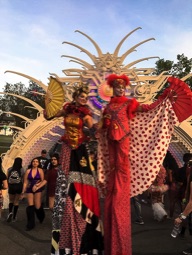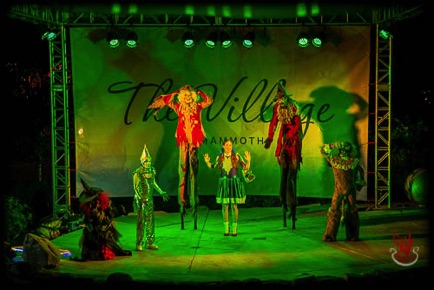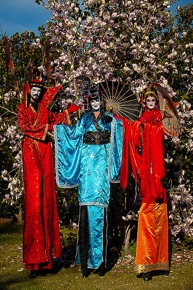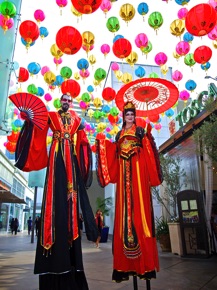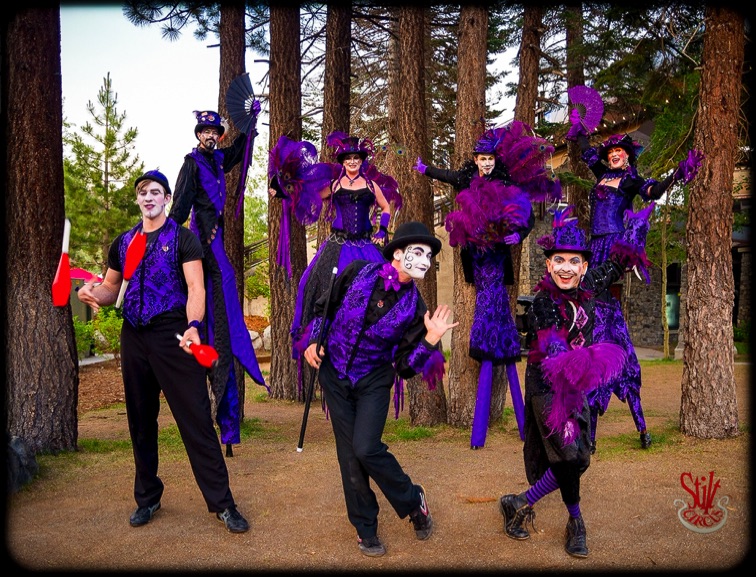 July 1~July 3 - The village at Mammoth. Roving the grounds all days with a Stage-Show Fireworks Extravaganza starting at 8:30pm on July 3 http://villageatmammoth.com/
July 8~July 24 - Seventeen consecutive days at the California State Fair! 4 Stilt Artists providing Strolling Entertainment all day in a variety of costuming throughout the fair run. Our Interactive Circus Station will also be teaching guests to perform simple Circus tricks such as plate-spinning, umbrella balloon balancing and juggling. http://www.castatefair.org/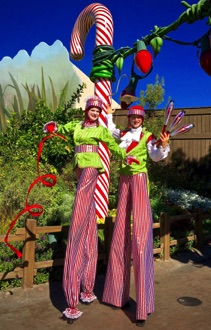 _________________________________________________________________________
2017 Events
April 8th - City of Hawaiian Gardens Parade 11am Parade Kick off - Come enjoy the Tall and Short of Stilt Circus as we will have 4 Stilters, 4 Little People and 1 Juggler in the cities 53rd annual parade. http://hgcity.org/hg/
April 15th-16th , 2017 - The Village at Mammoth Celebrate Easter weekend with Stilt Circus we will be performing for the Easter Day Parade on Saturday and at the Village at Mammoth on Sunday http://villageatmammoth.com/events/event/easter-parade/
April 21st-22nd - Rivers & Spires Festival - Clarksville, TN - Get a photo with Stephen Hues as he strolls the festival 9' Tall in his Jack-in-Box costume for their Super Hero theme. Performances: Fri - 5pm, 6pm & 7pm Saturday 11am, 1pm & 2:15pm https://riversandspires.com/
July 2nd ~ July 4th- The village at Mammoth. Get a photo with your friends of Stilt Circus as they will be Roving the grounds with colorful costumes interacting with guests. http://villageatmammoth.com/events/
July 14th - 30th - California State Fair ~ Sacramento, CA - This will be our 7th concecutive year at this 17 day fair! 4 Stilt Artists providing Strolling Entertainment all day in a variety of costuming throughout the fair run. Our Interactive Circus Station will be teaching guests to perform simple Circus tricks such as juggling, stilts, plate-spinning, rola bola and more. http://www.castatefair.org/
July 31st - August 11th - Ventura County Fair 'A Country Fair with Ocean Air' Our Stilt Artists will be wandering the grounds throughout the day in alternating costumes! http://www.venturacountyfair.org/
August 3rd ~August 6th - Yuba-Sutter Fair Northern California. Strolling the grounds each day in thematic costumes. http://ysfair.com/
August 4th ~August 8th - Larimer County Fair in Loveland, Colorado This will be our 3rd consecutive year at this fair and this year in addition to our 2 stilters we will be bringing our Interactive Circus Station, so come and find us and learn some circus skills from your friends at Stilt Circus. http://www.larimercountyfair.org/
August 12th - Mammoth Margarita Festival. Gomez restaurant at the Village at Mammoth. 3:30-8pm http://www.gomezs.com/Gomezs_2016/Margarita_Fest.html
August 25th September 24th - Colorado State Fair - NEW - This will be the 1st year for Stilt Circus at the Colorado State Fair in Pueblo, CO. We will have 2 Stilters roaming the grounds in different costumes each day, be sure to get a photo with our some of our fun Tall characters. http://www.coloradostatefair.com/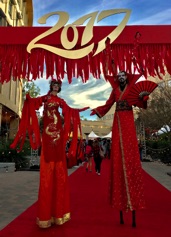 _________________________________________________________________________
2017 Lunar New Year ~ Year of the Rooster
January 21, 2017 - Main Place Mall, Santa Ana, CA (with Karla Ross Productions) http://www.shopmainplacemall.com/event/lunar-new-year-festival/
January 26, 2017 - South Coast Plaza Jewel Court Ribbon Cutting Ceremony, Costa Mesa, CA
January 28 - 29 - South Coast Plaza Jewel Court Lunar New Year Celebration
http://www.southcoastplaza.com/lunar-new-year/
January 28, 2017 - Santa Monica Place Lunar New Year (with Karla Ross Productions)
http://www.santamonica.com/event/2017-lunar-year-santa-monica-place/
January 28, 2017 - Irvine Spectrum Mall Lunar New Year
http://www.shopirvinespectrumcenter.com/events/chinese-lunar-new-year/
January 28, 2017 - Ontario Mills Mall Lunar New Year Celebration
http://www.horsingaroundinla.com/2017/01/23/ontario-mills-lights-lunar-new-year/
January 29, 2017 - Outlets at Orange Lunar New Year Celebration, Orange, CA
http://www.simon.com/mall/the-outlets-at-orange/news-and-events
January 29, 2017 - Fashion Island Lunar New Year, Newport Beach, CA (with Karla Ross Productions)
http://api.shopfashionisland.com/media/5883/fi-lunarnewyear-promotions-2017.pdf
February 4, 2017 - Americana at Brand Lunar New Year Celebration, Glendale, CA
http://www.americanaatbrand.com/blog/lunar-new-year-celebration/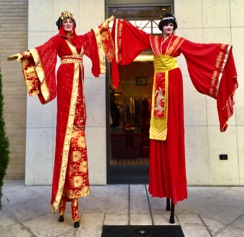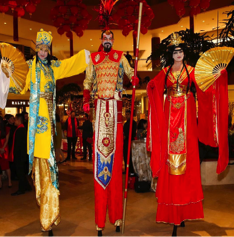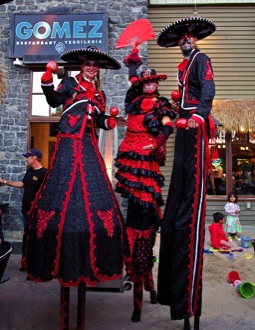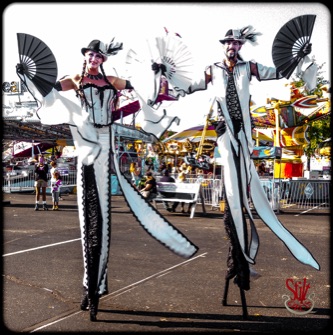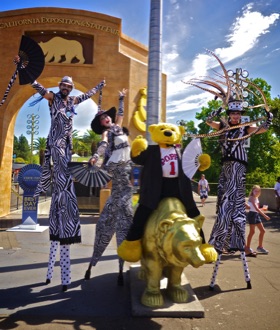 ________________________________________________________________________
Fall of 2017
August 31st ~September 4th - Monterey County Fair. We will have 2 Stilters roaming the grounds in various costumes. http://www.montereycountyfair.com/annual-fair
August 31st ~ September 3rd - Longines Masters Grand Slam Los Angeles at Long Beach Convention Center. Opening Gala Thursday Evening entertainment and 3 Roving Ambient Performances daily on Friday, Saturday, and Sunday http://www.longinesmasters.com/en/
October 5th ~ October 15th - Eleven consecutive days at Georgia National Fair with different costumes every day! Perry, Georgia. http://georgianationalfair.com/
October 17th ~ October 16th - South Carolina State Fair ~ NEW ~ This will be our first year at this fair. The last 6 days fit into end of the year 2017 Fair mapping, so be sure to get a photo with our Stilters as the roam the fairgrounds. https://www.scstatefair.org/
October 31st - City of Hawaiian Gardens community Halloween event http://hgcity.org/
December 1st - City of Hawaiian Gardens community Christmas event http://hgcity.org/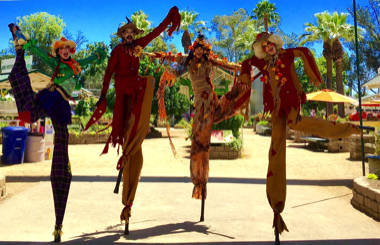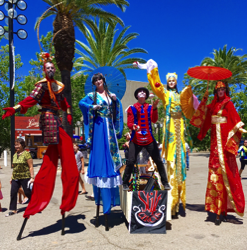 _________________________________________________________________________
2016 Events
_________________________________________________________________________
_________________________________________________________________________
2018 Summer / Fall Tour Dates
June 21st - 24th - Placer County Fair (Roseville,CA) NEW - This will be the 1st year for Stilt Circus at the Placer County Fair. We will have 2 Stilters roaming the grounds in different costumes each day, be sure to get a photo with our some of our fun Tall characters. http://www.placercountyfair.org/
June 30th - July 4th Marin County Fair (San Rafael, CA) NEW - This will be the 1st year for Stilt Circus at the Marin County Fair. We will have 2 Stilters roaming the grounds in different costumes each day, be sure to get a photo with our some of our fun Tall characters. https://www.marinfair.org/2018
July 1st - 3rd- Village at Mammoth (Mammoth, CA) Celebrating our 5th consecutive year at the Village at Mammoth. Stilt Circus will have 6 variety circus artists performing July 1-2 during the silent DJ from 5:30pm-8:30pm. On July 3rd join our Interactive Circus Station teaching various circus skills from 2-5pm & catch many circus acts strolling through the village from 7pm-9pm leading up to the magnificent grand Fire Works display. http://villageatmammoth.com
August 1st -12th - Ventura County Fair (Ventura, CA) 'A Country Fair with Ocean Air' Our Stilt Artists will be wandering the grounds throughout the day in alternating costumes! https://visitventuraca.com/ventura-county-fair/
August 3rd - 7th - Larimer County Fair (Loveland, CO) This will be our 4th consecutive year at this fair and we will be bringing our Interactive Circus Station, so come and find us and learn some circus skills from your friends at Stilt Circus. http://www.larimercountyfair.org
August 10th - 11th - Margarita Fest (Mammoth, CA) Stilt Circus will be returning for our 5th year to entertain during the festivals fun festivites. http://www.mammothmargaritafestival.com
August 24th - Sept 3rd - Colorado State Fair (Pueblo, CO) www.coloradostatefair.com
Aug 30th - Sep 3rd - Monterey County Fair (Monterey, CA) This will be our 3rd consecutive year at this fair. We will have 2 Stilters roaming the grounds in various costumes. http://www.montereycountyfair.com
August 31st - September 3rd - LA County Fair (Pomona, CA) (Friday-Sundays only PLUS Monday Sept 3rd) We will have 1 Stilt Artist in custom designed Dia de las Muertos Skeleton themed Stilt costume performing as strolling entertainment at the Plaza de las Americas & Blue Gate Airframe each day (Fri 2pm, 4pm & 6pm - Sat-Sun and Mon Sept 3rd at 1pm, 3pm & 5pm ). Be sure to get a photo with our Tall friend. https://lacountyfair.com/
September 6th - 16th - New Mexico State Fair (Albuquerque, NM) NEW - This will be the 1st year for Stilt Circus at the New Mexico State Fair. We will have 2 Stilters roaming the grounds in different costumes each day, be sure to get a photo with our some of our fun Tall characters. https://statefair.exponm.com/
September 21st - 29th - Panhandle South Plains Fair (Lubbock, TX) NEW - This will be the 1st year for Stilt Circus at the Panhandle South Plains Fair. We will have 2 Stilters roaming the grounds in different costumes each day, be sure to get a photo with our some of our fun Tall characters. www.southplainsfair.com
October 4th - 14th - Georgia National Fair (Perry, GA) We are excited to return for our 3rd consecutive year at the Georgia National Fair. It's the best fair to end our tour with, a touch of southern kindness and reconnecting with fellow performers and friends we've met over the years. http://georgianationalfair.com
October 27th - En Memoria at the LA County Fairgrounds (Pomona, CA) We will have 1 Stilt Artist in custom designed Dia de las Muertos Skeleton themed Stilt costume performing as strolling entertainment at the Fairplex Grandstand Infield at 1:30pm, 3:30pm & 6:30pm. Be sure to get a photo with our Tall friend. https://lacountyfair.com/
October 31st - City of Hawaiian Gardens community Halloween event (CA) 5pm-8pm A super fun Free event for the entire family. Lots of great halloween activities, costume contest, free goodie bags and of course your tall friends of Stilt Circus entertaining the crowds. http://hgcity.org/
November 6th - Kidspace Children's Museum (Pasadena, CA) Stilt Circus will have 2 Ring Leaders with our Interactive Circus Station teaching various circus skills from 4pm-
8pm. Come join the Circus! http://www.kidspacemuseum.org/events/eventlisting
December 7th - City of Hawaiian Gardens community Christmas event (CA) 5pm-8pm Another great free event for the entire family. The holiday festivities Kick off the evening with the Tree Lighting Ceremony, then come get your photo with Santa and Stilt Circus Little Elves and find your tall friends of Stilt Circus. http://hgcity.org