FAIRS
California State Fair 2009-2016 (6 Consecutive Years)
National Orange Show (Los Angeles, CA) 2014-2016 (3 Consecutive Years)
LA County Fair (Los Angeles, CA) 2007-2008 & 20014 (3 Years)
Larimer County Fair (Colorado) 2015 & 2016 (2 Consecutive Years)
Rivers & Spires Festival (Tennessee) 2014-2016 (3 Consecutive Years)
Mid South Fair (Southaven, MS) 2015-2016 (2 Consecutive Years)
Iowa State Fair (Des Moines, IA) 2016
Georgia National Fair (Perry, GA) 2016
Monterey County Fair (California) 2016
Yuba-Sutter Fair (California) 2016
Nebraska State Fair (Grand Island, NE) 2015
Desert Empire Fair (California) 2015
Calusa County Fair (California) 2014
San Benito Fair (California) 2014
Napa County Fair (California) 2013
Sonoma Marin Fair (California) 2013
Lyon County Fair (Nevada) 2013
FESTIVALS
Electric Daisy Carnival, Nocturnal Wonderland, Escape from Wonderland (Insomniac Events) 2002-Present
(14 Years) EDC Orlando, FL & Nocturnal Rockdale, TX
Paradiso & Freak Night (Washington State) 2011-2014 (3 Consecutive Years)
Lightning in a Bottle 2006-2009 (3 Consecutive Years)
Earth Dance 2010
Edward Sharpe Under the Big Top 2013
Zaragoza Water Expo – Spain 2008
Rumble in the Jungle – Costa Rica
Coachella
P. Diddy White Party
UCLA- CARS (Community Arts Resource Center)
Reggae on the River
SPECIALIZING IN THE FOLLOWING:
Everything Stilts: Stilt Puppeteer, Theater, Stilt Acrobatics / Acro-Balancing, Stilt Trick Bar, Bouncing Stilts, 4 Legged Stilts, Stilt Juggling and Break Dancing on Stilts.
Specialty Acts: Jugglers, Unicyclists, Contortionist, Breakdancers, Acrobats, Interactive Circus Station, Cyr Wheel, Adagio and Hand Balancing, Sky Poles, Trampoline Acts, Rola Bola, Cube, Little People, Native Hoop Dance, Hula Hoop, Bull Whips, High-wire
Aerial: Trapeze, Tissue, Lyra and Straps
LED & Fire Dancing: Poi, Staff, Hula-Hoop, Flaming Bullwhip, Fire Fingers, Fire Fans, Flam Parasol, Swords, Balance Beam, Body Contact, Fire Breathing and Eating
Dance: Bellydance, Sword Dance, Weapon Dance, Ballet, African, Brazilian, Middle Eastern, Hip Hop
TELVISION / FILM / MUSIC VIDEO
Venus Razor Commercial: Zebra 4-legged stilt character for National commercial
HBO / TBS: Stilt performance for Ellen Degeneres HBO Promo
MTV: Stilts, Fire and Unicycle for MTV Movie Awards 2007
Six Flags: Stilts and Fire for two National commercials
Vogue Magazine: Stilt production for April 2007 Issue
Panic at the Disco!: Stilts for song 'I write sins not tragedies' Best Video 2006 MTV Music Awards
Universal Pictures: Zebra on 4 Legged Stilts for Joss Whedon 'Serenity' movie
MTV / VH1: Fire & Dance in Perry Farrell Music Video for 'Song yet to be sung'
Stilt Dancer in Paul Oakenfold Music Video for 'Starry Eyes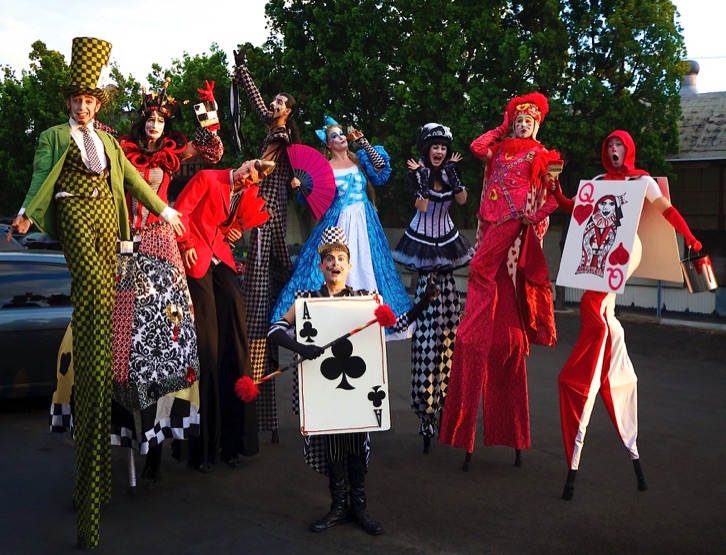 _________________________________________________________________________
CORPORATE EVENTS
Cirque Du Soleil: Kooza - Santa Monica Pier Centennial / Taste of Santa Monica.
Varekai – Premiere Party at Hotel Figueroa. Zumanity Premiere Party at NY NY Casino Las Vegas
Toyota Commercial: 2012 Camry Reveal at Paramount Studios Los Angeles
Western Union: Global Kick-Off in Orlando, Florida
Huis Ten Bosch: Golden Week / Rose Festival in Japan
Camel Brand RJ Reynolds: North Carolina Event
LA Opera: Magic Flute Stilt Choreography. The Ring Cycle Choreography and Ambient Ensemble
Universal City Walk: Stilt and Fire Installation Show at Universal City Walk Los Angeles
Disney: A Nightmare Before Christmas "3-D"Release Party at Disney's El Capitan Theatre.
Santa Clause III Release Party at Hollywood & Highland Complex
20th Century Fox: Robots Movie Premiere Party at Westwood Village in Westwood
Microsoft: Hotel Figueroa Corporate Party
Cisco Systems: Corporate event on The USS Midway aircraft carrier
Audi: Santa Monica showroom & location
ESPN: Release party at Highland Club
Red Bull: Employee appreciation picnic at Muckenthaler Mansion in Fullerton.
Ritz Carlton Esquire House, Tentations.
Carnival Cruise Lines: Double Whips presentation at Xingolati Music Festival